One of my favorite comments when I visit book club is that my book makes my readers hungry. For me, this is the highest form of praise.
Some of you may know that I have worked as a food and travel writer, so naturally these two areas are my passions. I love nothing better than visiting a new country and getting to know it via food. Not long ago, we had some friends over to dinner to talk about their upcoming trip to Italy. They had never traveled to Italy before and wanted to know more about the food and wine, so I created a menu that featured dishes from various parts of Italy. We started with a Sicilian salad made with romaine lettuce, slivers of red onion, grapefruit and orange sections, pine nuts and some gorgonzola cheese. This was topped with a citrus vinaigrette. Then, we had spinach gnocchi with pesto to sample the typical food from the Ligurian region. We followed that with Pasta Ettore, a fettuccine dish from Naples made with roasted red peppers, garlic, parsley, capers, some toasted bread crumbs, and topped with a fried egg. Mixed together, the steam from the fettuccine combines with the egg yolk and creates a heavenly melange that melts in your mouth.
Since my book is set near Naples, it features the food from that region–scamorza cheese: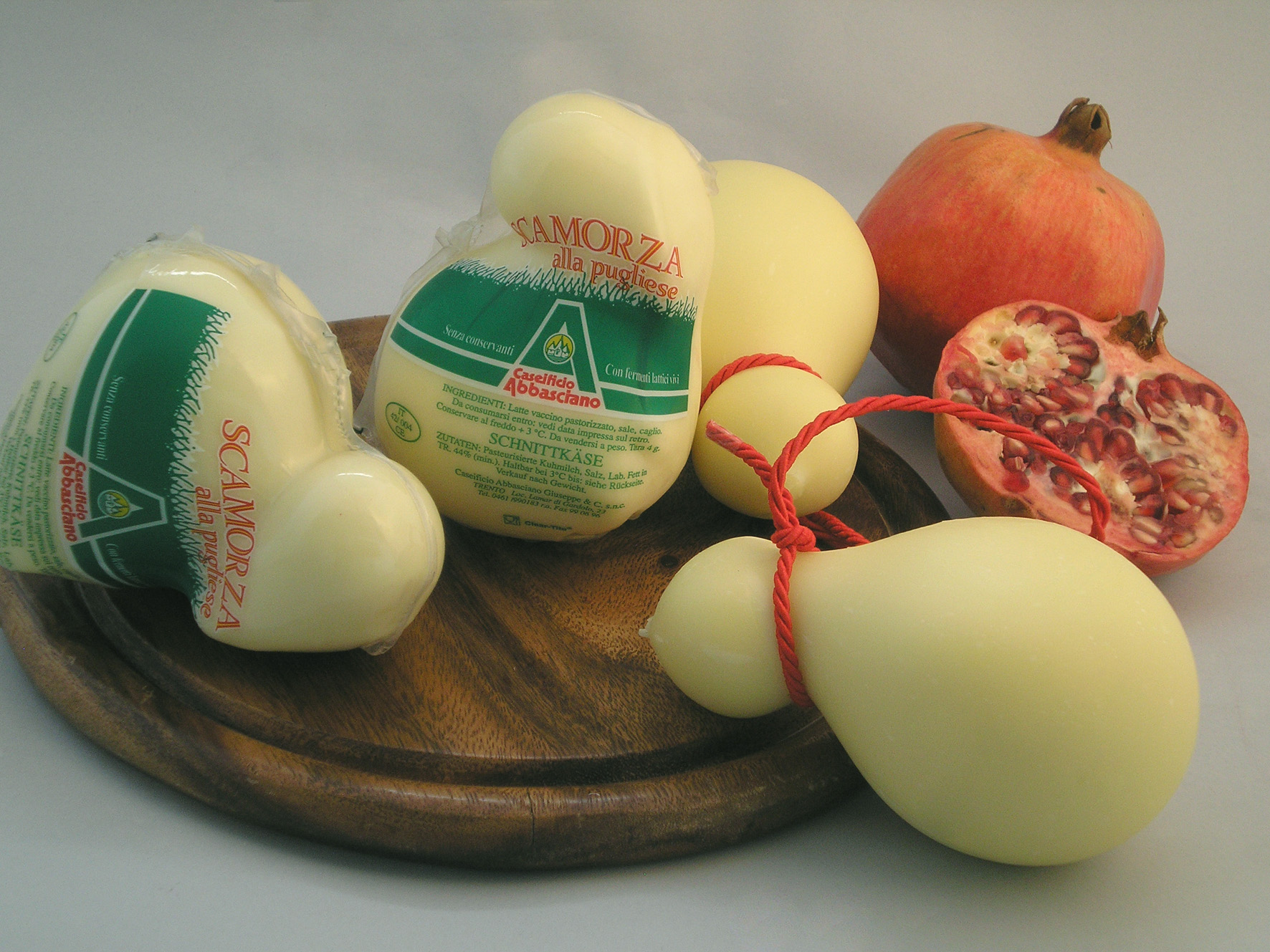 Pasta sauce topped with fresh roasted tomatoes: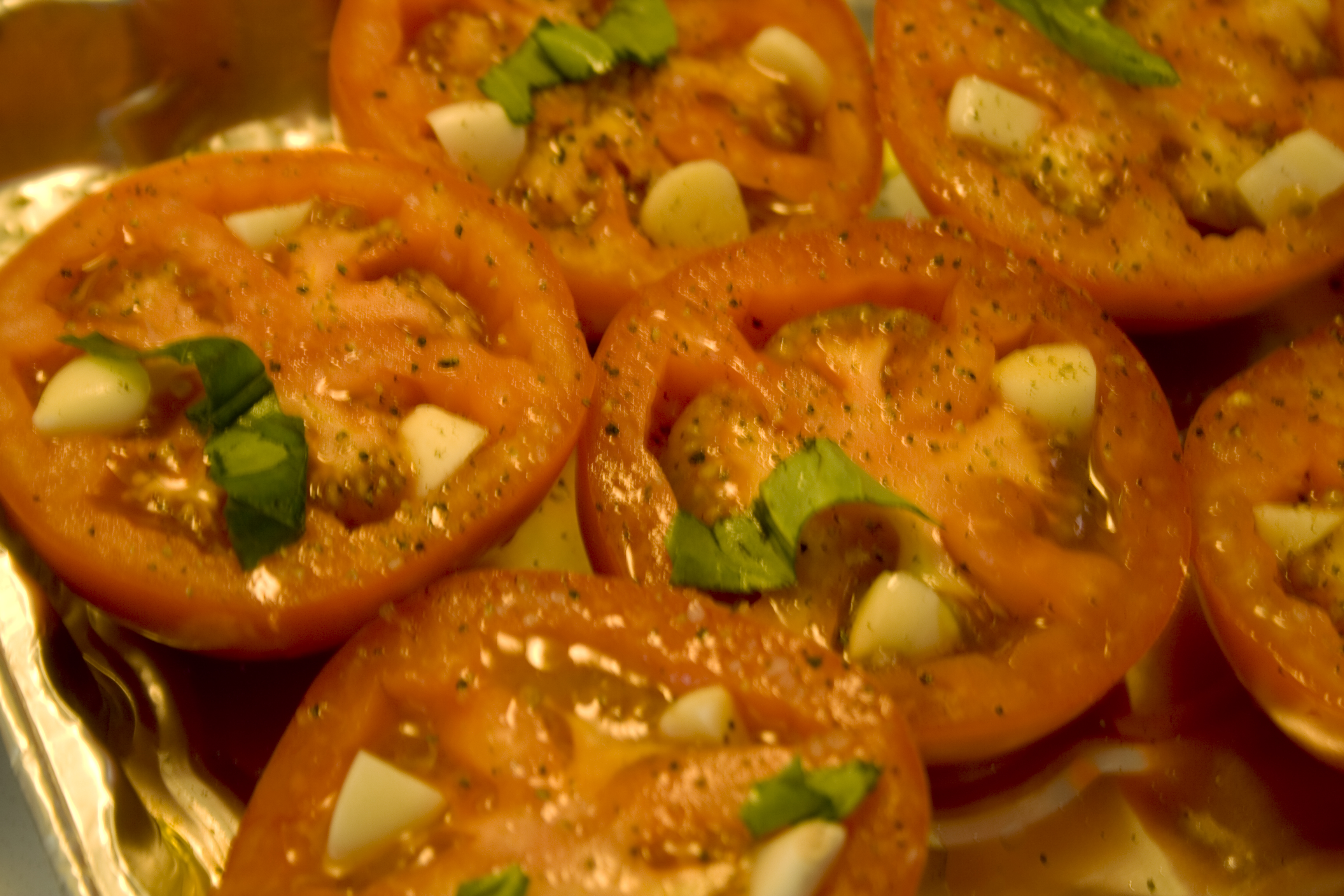 And small local markets in the piazza, where women shop daily for their fruit and vegetables: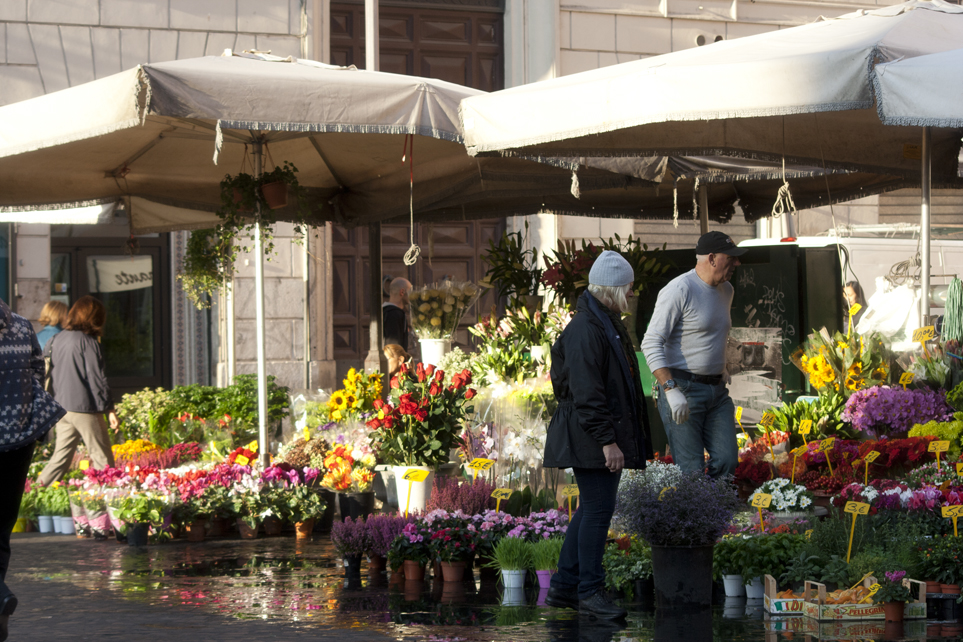 Do you want the recipe?
Spaghetti di Ettore
adapted from Naples at Table, Cooking in Campania by Arthur Schwartz
2 red bell peppers
1 tbsp salted capers, rinsed and chopped if large
1 or 2 large cloves garlic, finely chopped (or more to taste)
1/2 cup finely chopped parsley or basil
salt
freshly ground pepper
3 rounded tbsp fresh or dried bread crumbs
5 tbsp extra-virgin olive oil
2 handfuls of dried or fresh spaghetti or linguine
2 eggs
1 tsp. of Italian seasoning blend like Mrs. Dash
1. Roast, peel and clean the peppers. Cut them into strips. *For more detail on this step, see note following the recipe.
2. In a small baking dish, combine the pepper strips, the capers, the garlic, and the parsley. Season with salt and freshly ground pepper. Sprinkle bread crumbs on top. Set aside until you are ready to finish the dish. This can be done in advance.
3. When ready to assemble the dish, put the water to boil for the pasta. Just before placing the pasta in the salted water, drizzle the pepper mixture with 2 tbsp of the olive oil, then place it in a preheated 350-degree oven for 10 minutes,
4. While the pasta is boiling and the peppers are baking, fry the eggs over medium heat, in 2 or 3 tbsp of olive oil, sunny-side up, until the whites are set and the yolks are still runny. Make sure not to overcook the eggs. The yolks should blend with the hot pasta.
5. Drain the pasta and pour it into a large (preferable heated) serving bowl. Using 2 forks, toss in the baked peppers and the fried eggs, using some or all of the egg-cooking oil, too. As you toss, break the whites into pieces and let the yolks act as sauce. They will mix with the pasta and cook further from the heat.
6. Check for salt and pepper and serve immediately with or without grated Parmigiano or Pecorino cheese.
*Roasting peppers over coals or a gas flame is ideal. The point is to blister and char the skin and to tenderize the peppers, not to make them soft. (If you, like me, have electric burners, you can do this with a cast-iron skillet or a grill pan).